Convert Your Wood-Burning Fireplace to Gas
Did you know you can convert your existing wood-burning gas fireplace to gas?
There's nothing quite like a fireplace to provide beauty, warmth and comfort to any space, indoors or out. But you no longer have to chop wood or jump through hoops to build or stoke a wood fire to enjoy the natural beauty of a fire.
Clean, simple natural gas fireplaces are just as warm and beautiful, but without the hassle and mess of wood.
At Comfort Solutions, we have a variety of options that allow you to convert your existing fireplace to an alternative fuel source. As Utah's industry-leading specialist in fireplace design, installation and conversion, we can design a solution that will transform any existing hearth into a more aesthetic and efficient fireplace, quickly and affordably.
LET'S CONVERT YOUR FIREPLACE!!
Change up the look of your entire room by simply converting your dated fireplace and replacing it with our Gas inserts.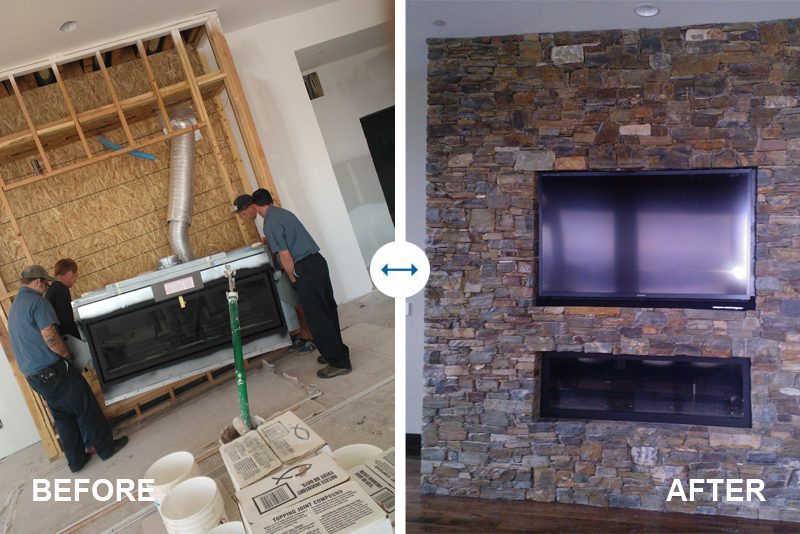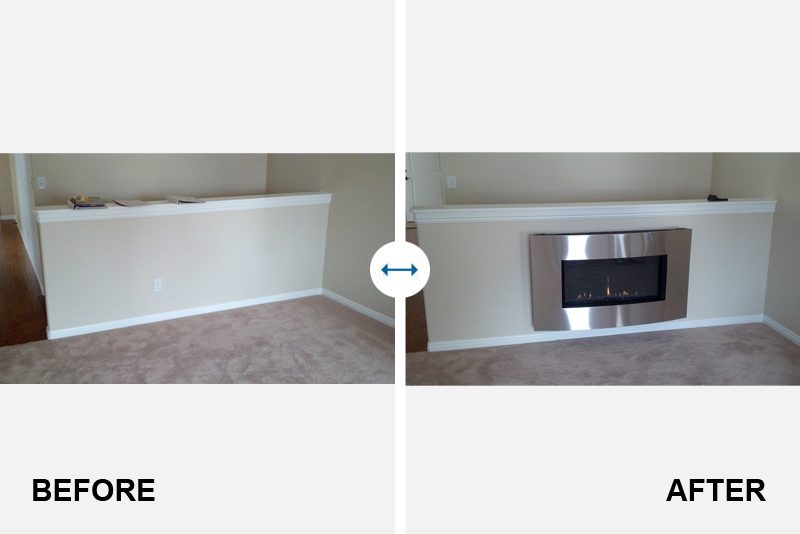 Why Convert to a Gas Fireplace?
Everyone enjoys the warmth and glow of sitting beside the fire – but no one particularly wants to deal with the hassle. Between chopping wood, preparing kindling, starting the fire and babysitting it constantly to keep it burning, this process gets old very quickly. Not to mention, wood fireplaces leave you (and your home) smelling like an old, dirty chimney. Smoke burns your eyes, aggravates allergies and breathing problems, and results in ash accumulation that requires frequent scooping, hauling and disposal.
Utah regularly violates federal standards for air quality and particulates. During the colder months – when people are much more likely to have a fire – this problem worsens due to weather patterns. Our bad air further contributes to chronic health problems such as asthma and other respiratory ailments.
Converting to a natural gas, propane or electric fireplace saves time, money and hassle. It's better for both indoor and outdoor air quality too. Best of all, you won't have to sacrifice the beauty or heating benefits of a fire by converting to an alternative fuel source.
Installing a Gas Fireplace Insert
A gas fireplace insert is, simply, a self-contained firebox that fits neatly inside your existing hearth. We connect the realistic-looking log assembly to your fuel of choice – typically natural gas or propane – and provide a simple user interface. You can operate your fireplace using a handy remote control or we can provide a simple wall switch for you.
You'll immediately notice a substantial reduction in the chimney air leaks and drafts you used to deal with. Inserts are well-insulated and provide improved, controllable heating for indoor spaces, reducing your energy use and heating costs as well.
You can choose from a wide variety of inserts to match your interior décor, providing an improved aesthetic and serving as a focal point for any room.
Other Options for Converting a Fireplace or Wood Stove
If an insert isn't right for you, Comfort Solutions can convert your existing fireplace through an overhaul or by installing a new fireplace at your home or business. Whatever your goals may be, our team will work closely with you to design a solution that works for your goals and your budget.
We also specialize in the conversion of wood-burning stoves to natural gas. With our in-depth knowledge and extensive experience, we make the process simple and straightforward. We can also help you determine if you qualify for any incentives or assistance through state, local or federal programs. We also offer flexible financing programs that, upon qualification, can help turn the fireplace project of your dreams into reality.
We serve customers throughout the metropolitan Salt Lake City area and all along the Wasatch Front. Contact us today to learn more, or to schedule your personalized consultation and cost estimate to convert your current fireplace from wood to natural gas.