Add a Fireplace to Your Space
Today's advanced fireplace technology allows Comfort Solutions to design and install a fireplace in virtually any location you prefer.
Adding a fireplace turns your house into a home, providing a focal point of warmth and beauty. It also enhances your home's value and allows you to save energy and reduce your heating costs.
Best of all, our team can complete the project in a very short time with little disruption or mess. In fact, you don't even need a chimney. And that means that installing a fireplace at your Utah home won't break the bank either.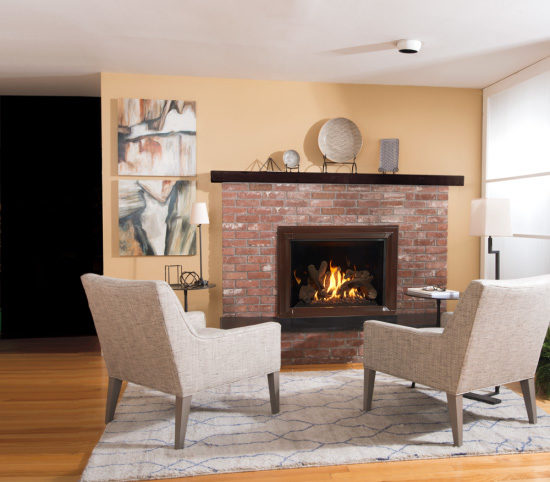 Adding an Indoor Fireplace
Have you always dreamed of having a beautiful, roaring fire in your living room, den, finished basement, master bedroom or ensuite bath? Wherever you have envisioned adding a fireplace, Comfort Solutions can bring your vision to life.
Our experienced design and installation specialists will work closely with you to design a solution that meets your goals and stays within your desired budget.
Whether you prefer an ornate, traditional design or your tastes run more toward a sleek, streamlined modern fireplace, our team understands how to make it happen. Depending on the type of fireplace you want, we can run the minimal necessary ventilation in much the same way as a range or dryer vent. Some models don't require any ventilation at all, which allows us to install it virtually anywhere.
Adding an Outdoor Fireplaces
At Comfort Solutions, we believe every Utah house can look and feel more like a home with the addition of an outdoor fireplace or fire pit.
We design wood-burning outdoor fireplaces as well as those that operate with natural gas, propane and electricity as fuel. We also install fire pits and fire features – including fire bowls, tabletop fireplaces and specialty designs – based on your vision and your budget.
Some of our favorite projects combine a fire feature with other outdoor living amenities, such as an outdoor kitchen, entertainment area or gazebo. Our award-winning designers know how to give you that "wow factor" you seek while still working within your space and cost parameters.
How to Add a Fireplace to Your Existing Home
You can add a fireplace to your home in three easy steps.
Step No. 1: Choose the location (or locations) in your home where you envision having a warm, inviting fireplace.
Step No. 2: Determine the design style that bests suits the space, your vision and your needs.
Step No. 3: Call the expert team at Comfort Solutions to get started.
We take the time to listen to your dreams and goals. After taking a look at your location and identifying any particular challenges we note, we will recommend the best approach to installing your new fireplace. Whether you want a wood-burning hearth or a clean, modern natural gas design, we can make it happen for you.
Contact Comfort Solutions today to learn more, or to request a free estimate for adding a fireplace at your northern Utah home or business.